Julia Stoiber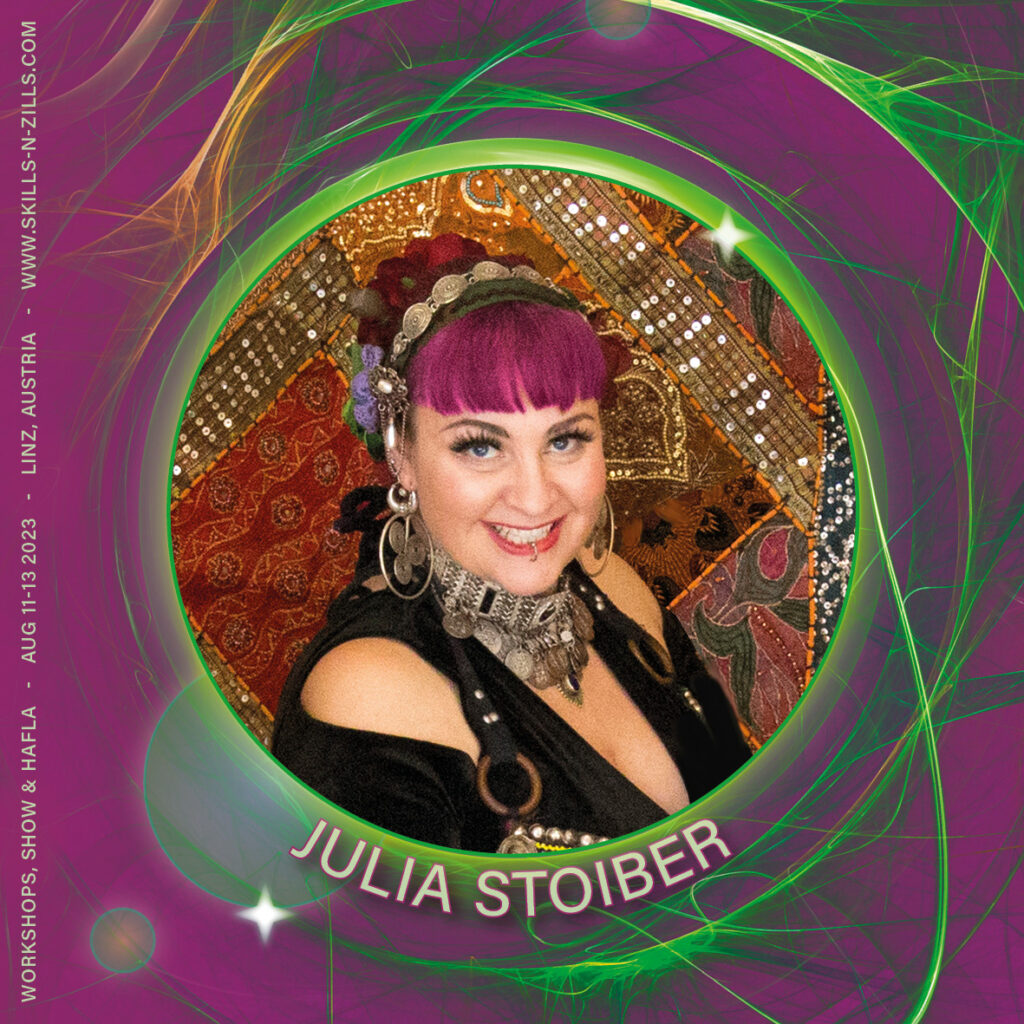 Julia Stoiber is the founder of the FCBD® style dance group Anam Damhsa, a member of Anam Chara and the recently formed Many Moons Collective (Gudrun Herold).
Her dance journey began as a child of four with tap and ballet. At six, she began learning karate and got her black belt at eleven. This is where her love of syllabus and training comes from. Around 2003, a friend mentioned ATS®, the name at the time for FCBD®, and said to her she should try it. They even went shopping for turban fabric together in Camden but without a car or a teacher in her local area, unfortunately this wasn't to be. She discovered 'oriental dance' unintentionally and began learning with a passion around 2005 as Carol Gibbon's first student in her hometown of Cheltenham, in the UK. Her teacher quickly realised Julia's style at the time fit well with an emerging dance form known as Tribal Fusion and recommended she try it. Julia quickly soaked up every tutorial and workshop she could but as the dance form was so new, there wasn't anyone in her county teaching it at that time.
In 2007 Julia moved to Austria to be with her now husband. This brought with it a break from dance as she began to learn German, retrained, and began a new occupation as an English language trainer, teacher trainer and renovated her new home. Around 2010 Julia was thrilled to find a tribal fusion teacher (Manuela Kraus) near Linz and began learning in earnest, driving two hours a week to train with her. She then began to travel to various workshops around Europe to learn from renowned teachers such as Jill Parker, Kami Liddle, Moria Chappell, The Lady Fred and Illan Rivière to name a few. It was during her regular classes that she met Dani, a member of Anam Chara. In 2015, Julia began workshops with Dani to learn ATS®. In 2018 Julia was invited to join Anam Chara, with Marisa and Irene, and did so at Midsummer. Marisa and Julia quickly became firm friends and decided to go to a workshop together in February 2020 in Hannover taught by one of Europe's top registered, FCBD® style teachers, Gudrun Herold.
This led to her FCBD® training advancing rapidly as Gudrun's mentee and she continues to receive weekly private lessons from her as well as participating in her regular classes and driving to her workshops in addition to completing courses on FCBDu. The Fat Chance online university. Another highlight was a private lesson with Carolena Nericcio, the founder of the dance style. As her training continued, she and her husband renovated their garage into a gym and dance studio complete with a mirror wall. She has taught FCBD® style herself since October 2020 and leads the group training for Anam Chara and loves to combine her passion and knowledge of didactics with her love for FCBD® style dance both with Anam Chara and Anam Damhsa. She created a course syllabus for each level, with lesson plans, additional informational handouts, video tutorials and flows for her students available on the Anam Damhsa website. Having had to learn German, and through teaching English, she realised that her community was lingually isolated from the Global Fat Chance community. This led to her idea for the FCBD Faces interview series which she produces with her close friend and Anam Damhsa group member Tina Daxberger.
She participated in Caravan a Dance Journey (2020), a performance led by the Dance Sisters Collective, and led Anam Damhsa at the Roma Tribal online show (May 2021) and Caravanseray Vienna (2021) the online and outdoor shows. In 2021 she has completed her FCBD® style General Skills training (online) and participated in the Teacher Training in Soest, Germany in the Summer of 2022. Julia is now the certified leader of the first FCBD® Partner Studio in Austria.
Julia´s workshop: