Kelley Beeston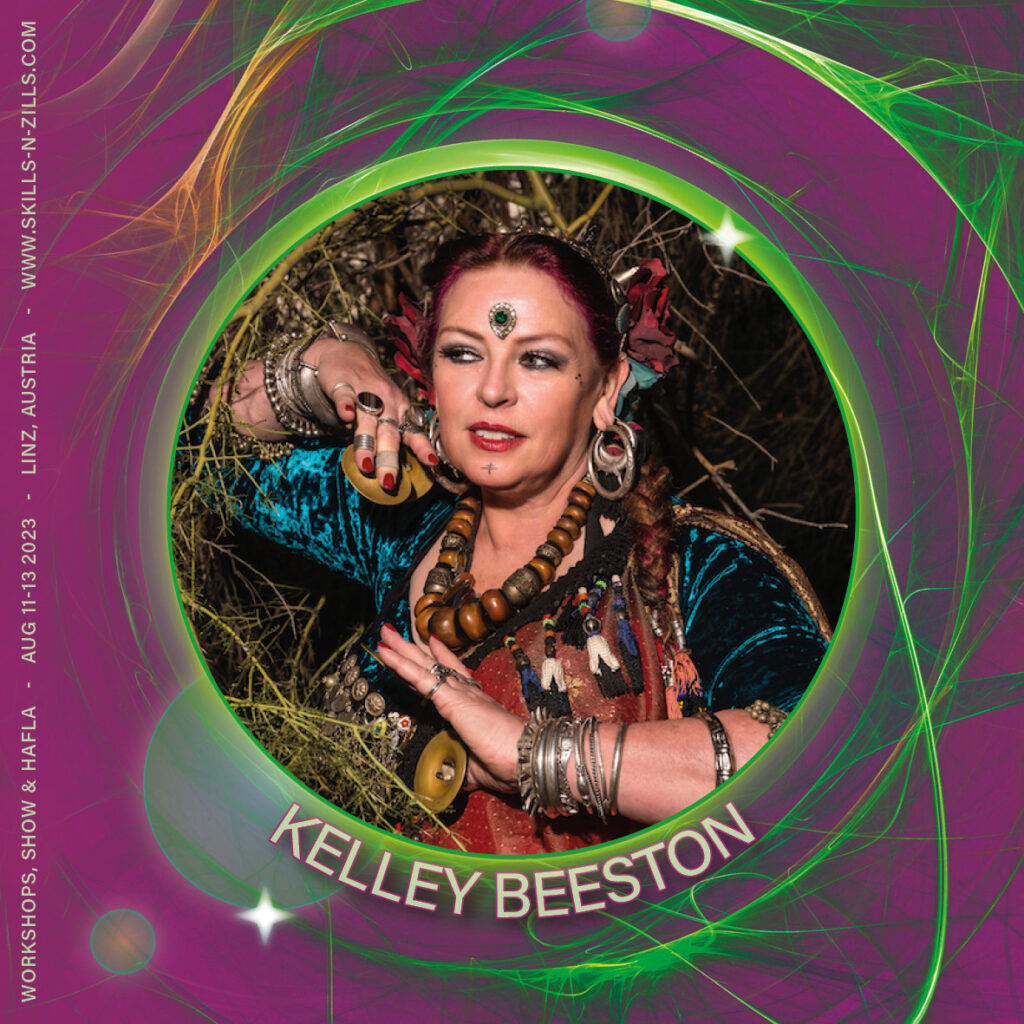 Kelley is dedicated to presenting pure FatChance®style belly dance, as created by its founder and her master teacher Carolena Nericcio, and is well known for her inclusive, approachable teaching style. Her innate ability to break things down and simplify the most difficult steps and concepts has earned her a reputation as a thorough and knowledgeable teacher. Over the years she has nurtured a growing dance family teaching weekly classes and workshops both at home in the UK and internationally as well as offering live online classes, workshops and coaching. As part of the "ATS Friday Challenge" Facebook group she gave weekly hints and tips every week for nearly 5 years and was invited to become an instructor for FCBD®U, the online education resource for FCBD® style, where she creates recorded workshops on all aspects of FCBD® style.
Kelley's passion radiates through her teaching and also when performing both with her dance troupes Kalash Tribal and Panacea (an online international troupe created during the Covid 19 pandemic) as well as other collaborations. For her there is something magical and empowering about FatChance® style belly dance which she is really looking forward to sharing with you.
In 2008 she launched her own 'Oasis', a much-loved sanctuary for mind, body and soul providing quarterly structured workshops with tuition from an experienced, dedicated, warm and friendly teacher. Her annual Serendipity event at the "ATS Hogwarts" attracts dancers from all over Europe and even the United States.
Based in SW England Kelley regularly trains with Carolena Nericcio and other FCBD®style masters and became a Certified Teacher and Studio in 2010. She was selected as one of only 10 teachers worldwide to undergo the first ever Advanced Teacher Training and in June 2015 graduated and qualified as a FatChanceBellyDance® Continuing Education (FCCE) Instructor. She is honoured to be part of the FCBD® team teaching General Skills, Teacher Training and Technique for Teachers courses with Carolena both online and in person.
Kelley continues to raise funds through our dance community for her Sister to Sister projects empowering women in the Democratic Republic of Congo.
Find out more at https://www.kalash-tribal.com/
Kelley´s workshops: