Lisi Brümmer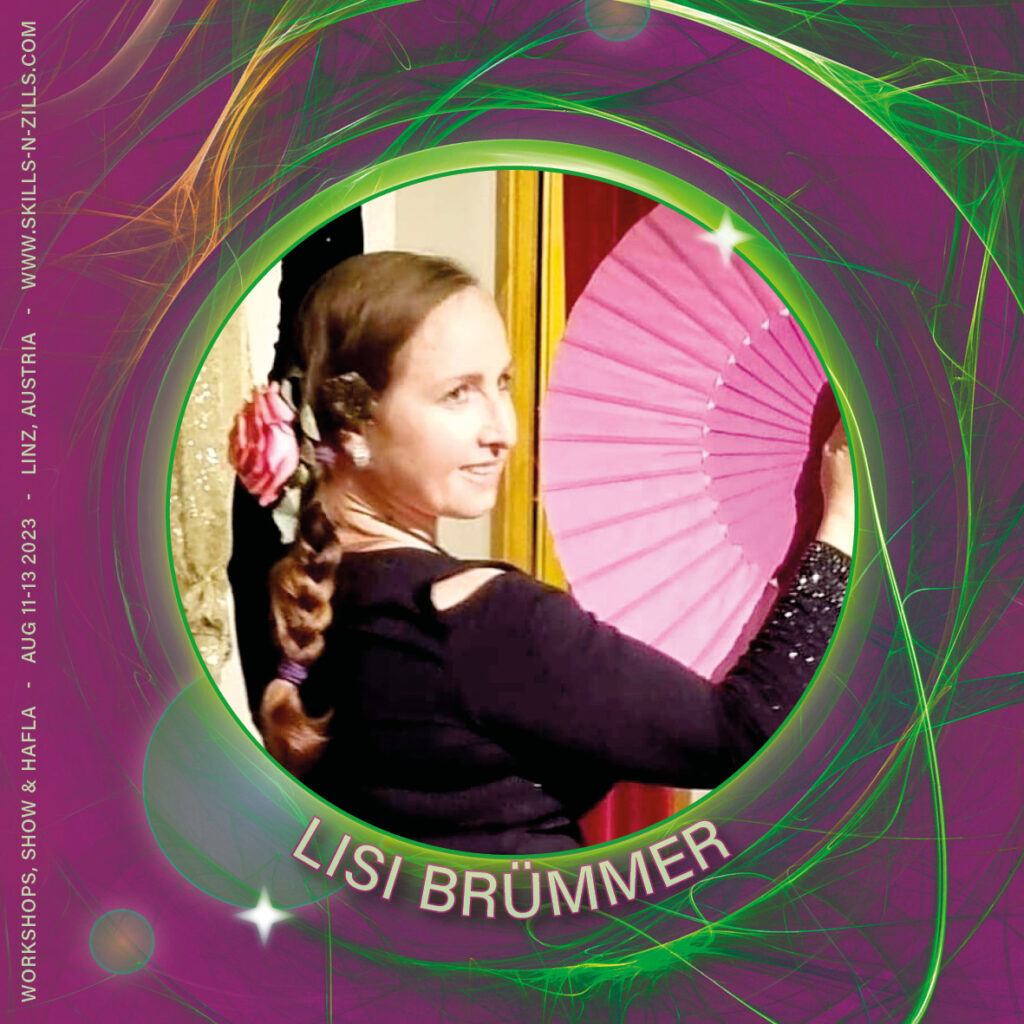 Lisi Brümmer is a Physiotherapist and lives in Deggendorf, Bavaria, Germany. She has been bellydancing since 1999 and has been teaching Oriental Dance since 2003 in her hometown. In 2013 she got interested in FCBDStyle and when she started to study tons of Videos on Youtube and Facebook she fell in love with the power and elegance of the women that she saw! When she realized that other dance groups in her area were not dancing FCBDStyle but all kinds of dialects she wanted to learn the real stuff! So she signed up at Datura Online to learn with Colette Todorov's Videos and she bought all the FatChance BellyDance DVDs to review the steps she had seen on Youtube and Facebook. Then she found out that Freddie Kaz in Munich organized the most amazing Workshops with fabulous FatChanceBellyDance Style VIPs! Finally she could learn FCBDStyle in person from terrific dancers like Freddie Kaz herself, Colette Todorov, Sandi Ball, Philipp Moirai, Emine di Cosmo, Virginie Violett, Katarzyna Lidia Weichert and Agata Zakrzewska!
In 2017 when the "ATS Friday Challenge" group on Facebook started, Lisi took the chance and began posting her own practice Videos in the group every week! She learned a lot from this experience, especially since Kelley Beeston, the brilliant Advanced FCBDStyle Teacher Trainer, joined the group and started giving weekly Technique Tipps! And just in time Lisi found DeAnna Padrón Freeman who was starting her Online Teaching journey in 2019! DeAnna is a Devyani troupe member and close friend and student of Megha Gavin. Since 2019 Lisi is taking every single one of DeAnna's fabulous Online Classes full of Yoga, Anatomy and exquisitely picky FatChanceBellyDance Style Technique. And Lisi found paradise when DeAnna created the FatChanceBellyDanceStyle University Online School!
Everything she is learning Lisi is teaching to her students in her hometown Deggendorf. Her FCBDStyle troupe is called "Tanzerei Adabei" and they usually meet twice a week to dance and drum and create new costumes. But still Lisi is very busy dancing Online! With her friends Ross (Italy), Kelly (Australia) and Heidi (USA) she created the FCBDStyle Virtual Duets facebook group in 2019. During the Pandemic she helped Samatha Jane organizing the 24hours Flow events on Facebook. And with her friend Ross she started doing frequent Zoom Haflas inviting dancers from all over the world to join! Since Lisi met Katarzyna and Agata in Munich in 2018 she wanted to learn their beautiful Flamenco inspired FCBDStyle Dialects with Flamenco Fan and Manton! Luckily Freddie Kaz organized beginner Workshops in Munich in 2019 and 2020. During the Pandemic from 2020 until now Lisi also took every Online class with Katarzyna Lidia Weichert and Agata Zakrzewska to study all the moves of The Siren Project.
In July 2022 when the world opened up again, General Skills and Teacher Training in person was finally happening in Soest, Germany. And Lisi's Dream came true! She met the inspiring creatrix of FatChanceBellyDanceStyle Carolena Nericcio and Kelley Beeston and her friend DeAnna Padrón Freeman in the flesh to get her official Teacher Certification! Since July 2022 Lisi is an officially Certified FCBDStyle Studio. Though she is already teaching regular FatChance BellyDance Style classes for beginners and for advanced students in Deggendorf since 2015. 2022 was a very busy year.
In October Lisi also went to Warsaw to do the first Siren Project Flamenco Fan Teacher Training with her adorable teachers Katarzyna, Agata and Eleen Kim. She is now an International Representant of The Siren Project Flamenco Fan Dialect! Since 2021 Lisi is already offering Workshops Online and in Person to share her love for the Flamenco Fan with the World.
Lisi´s workshops: